Contact
info@espressofromhell.com
Pierre Sottas, +41 (0) 76 679 70 35

Booking
Pierre Sottas, +41 (0)76 679 70 35, booking@espressofromhell.com
Links
band
Bass and Voice encounter, spiced up with some loopers flavour, Espresso From Hell plays jazz and pop songs in it's own original way.
Everything started some years ago when Brigitte and Pierre, long time friends, decided to play in duo "just for fun". It went so well that despite the lack of free time it leaded to an album in 2015.

What else ?
members
Brigitte Savoy : voice and loopers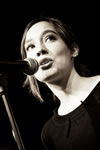 She started her musical career as singer in small pop-rock bands. Quickly she bacame interested in jazz and attended the general classes of the Conservatoire de Montreux and then the qulifying classes of the Swiss Jazz School. It logically leaded to a Master Of Arts at the Haute Ecole de Musique (HEMu) de Lausanne. She is now teaching while leading her own projets (Hello Bridget, Bee's Grit, EFH). She is also often hired as backing vocalist (Dolly Chance, Gallavin, etc.).
Pierre Sottas : bass and loopers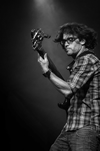 Bass player, teacher, arranger, producer, he plays all around Switzerland and Europe in a lot of different styles. Main projects : i.Trio, Espresso From Hell, Montreux Jazz On The Road Band, Gallavin (arranger, producer, bass),Time Grid, Papapitufo, Loraine Cotting, ... He has played with Billy Cobham, Adam Nussbaum, Jacob Collier, Jerry Léonide, Claude Diallo, Sabine Kühlich, Gaël Rakotondrabé, Fred Bintner, Federico Casagrande, ...
www.reverbnation.com/musician/pierresottas
Audio
videos
Click on "playlist" below to view the other videos
pictures
click for high-resolution pictures
what people say
Fantastic playlist guys...such a fresh and vibrant re-imagining of such classic tunes..particularly loving how stripped-back and graceful you perform the Lana del Ray track....just a gorgeous version!
"Eleanor Rigby" - great work! Best wishes, Egon Erger
One word: Yeaaaaah! Best wishes from Cologne – Versu
"Eleanor Rigby" totally creative version is awesome. Chuck Brunicardi
Eleanor Rigby is amazing! Incredibly rich musically!
next gigs
past gigs
We played in quite a few places including:
OYO - Lausanne, Switzerland
Pois Chiche - Lausanne, Switzerland
XXe - Fribourg, Switzerland
etc.
Technical rider
click here to get our technical rider